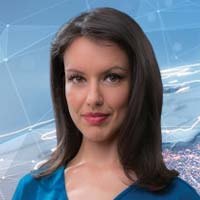 Ioanna Nikolova
Anchor of News ON AIR
Ioanna Nikolova hosts the weekend edition of News ON AIR.
She has significant experience in field of journalism starting career in TV as a student – first, being a trainee, then turning into a parliamentary reporter and tv anchor.
Ioanna is part of Bulgaria ON AIR since its creation, gaining experience in economic journalism in the morning show and later hosting "Business start" at Bloomberg TV Bulgaria.
She has been awarded by the Hispanoperiodistas for sustainable coverage of important issues in Bulgaria and worldwide. Her prize was in "Professional ethics and civic responsibility" category.
For her work dedicated to health issues, Ioanna has been also honored by Medical University Sofia.