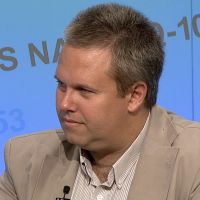 Alexander Yolovski
Deputy Chairperson of the State e-Government Agency (SEGA)
Alexander Yolovski has graduated from Sofia University "St. Kliment Ohridski", having been awarded an MA in Political Sciences
Prior to being appointed a Deputy Chairperson to SEGA he managed a Department with "Information Services" JSC.
In the period of April 2011 to July 2015 he used to be a Head of "Programming, Tendering and Contracting" Department with the "Administrative Capacity" Directorate, a Managing Body of "Administrative Capacity" Operational Program with the Ministry of Finance, a Head of "Structural Measures for European Structural and Investment Funds" of Department in "European Union Funds Programming" Directorate with the Administration of the Council of Ministers and Head of "Programming and Contracting" Department at "Good Governance" Directorate, a managing body under "Good Governance" Operational Program with the Administration of the Council of Ministers.
He coordinated the elaboration of annual indicative working programs and controlled the selection and contracting processes related to the provision of grants under electronic governance development procedures, the improvement of the electronic administrative services delivery to both individual citizens and the business entities, elaboration and improvement of primary inventories for providing internal administrative electronic services. He participated in the process of prioritizing the measures to be funded.
Alexander Yolovski managed the elaboration the "Good Governance" Operational Program, which set out the EU-funding priorities, related to implementing the administrative reform and introducing the electronic governance, including electronic justice. He took a leading role in negotiating the approval and acceptance of the operational program by the European Commission.