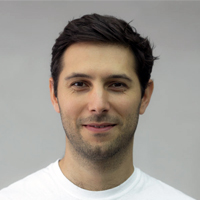 Lubo Georgiev
Team leader, "Vision Sofia"
Ljubo Georgiev studied architecture at IUAV (Venice, Italy) and TU Delft (Delft, The Netherlands). He has extensive experience in gathering and managing  multidisciplinary teams. Lubo has worked as a director of the ONE ARCHITECTURE WEEK festival (Plovdiv, 2014-2016), as team leader of  Turenscape (Beijing, China 2012-2014), MVRDV (Rotterdam, Netherlands, 2009) and Claus en Kaan Architecten (Amsterdam, Netherlands, 2007-2009).
An important part of his work are projects with public focus: participation in initiatives such as "Architecture failure", "Architectural Critique" rubric, movies like "City Feeling" and "Do You Know the Architect?", "Urban Development Laboratory" team. He has  been a co-author of exhibitions, workshops, lectures and publications. Ljubo Georgiev is part of "Vision Sofia" to structure and coordinate the teams's work, to create an environment for a dialogue between many different groups and to work on suggestions for a Vision-based methodology.